Best Family Vehicles from INFINITI
Shopping for a family-friendly vehicle certainly doesn't feel like the flashiest thing. Typically, the more essential features when buying a family car are safety, functionality, and child-friendly features, such as entertainment. This is in stark contrast to some flashier reasons for buying a car, which include horsepower or how the car looks on the outside (America's No. 2 reason for buying a car, according to JD Power).
However, there's no reason why you can't have a little of both. In this article, our team here at INFINITI of Tallahassee will share with you the best family vehicles from INFINITI that have both style and functionality.
Q50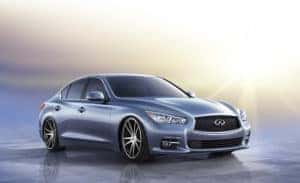 As a midsize luxury sedan, the INFINITI Q50 boasts one of the most sizable interiors in its class and ample trunk space that can fit up to four large suitcases. It also comes with plenty of features to ensure you and your family's safety. This includes technology that monitors and alerts you if a vehicle is in your blind spot and a predictive collision warning system that monitors the car in front of you. With safety features like this, it's no surprise that it received a "Superior" front crash prevention rating from the Insurance Institute for Highway Safety (IIHS).
The Q50 also provides leather seats designed to better support your posture and two complete sets of LATCH connectors that are easy to locate. Other child-friendly features include Android Auto/Apple CarPlay capability, a Wi-Fi hotspot, and numerous outlets for charging devices. In addition, it comes power-packed with a twin-turbocharged V6 engine to go along with its refined chrome accents and sleek, aerodynamic look.
QX50
The INFINITI QX50 is a crossover SUV that's spacious, comfortable, and very affordable. A recent redesign has further boosted safety features with rear-side airbags and other changes that have improved passenger protection from side-impact crashes. The National Highway Traffic Safety Administration (NHTSA) gave the QX50 a five-star safety rating overall, as well as for side crash impact. Additional driving aids, such as backup collision intervention and the smart rearview mirror, make driving your vehicle in kid-heavy traffic areas less stressful.
You'll find other aspects of the QX50 convenient as well. A hands-free liftgate that opens up to reveal over 65 cubic feet of space for cargo. An infotainment system includes smartphone integration, Bluetooth and Wi-Fi connectivity, and Bose premium stereo and navigation. A luxurious interior with zero-gravity seats, ambient lighting, a moonroof, and chrome/aluminum accents. The QX50 is both stylish and practical.
QX55
This compact SUV comes styled like a coupe for a sportier look. It also packs a powerful punch with its 268-horsepower, turbocharged, four-cylinder engine to go with an estimated 22 miles per gallon in the city and 28 miles per gallon on the highway. The interior is also a sight to behold with laser-cut stitching, leather seats, and options to personalize the trim. Cargo space is available in abundance as well. The rear seats can fold down to provide up to 54.1 cubic feet of space or slide back to provide an extra six inches of legroom.
The INFINITI QX55 contains numerous safety features as well, such as rear cross-traffic alerts, rear parking sensors, and automatic emergency braking. It also has a five-star frontal crash rating from the NHTSA. Combine these amenities with two touch screens that display navigation, Apple CarPlay or Android Auto features, and a 16-speaker stereo system, and you have an SUV that your whole family can enjoy no matter where they're seated.
QX60
The QX60 can seat up to seven people with three rows of seats for those with larger families or needing a little more room. The third row is easily accessible with a single button that can slide and tilt the seats. When both rows are folded flat, you'll have over 75 cubic feet of space to use for whatever you need to place in your vehicle. The QX60 also packs plenty of power with a 295-horsepower V6 engine, but with above-average fuel economy for its class.
No corners were cut concerning safety, and the QX60 has been an IIHS Top Safety Pick for three out of the last five years. The QX60 can also handle all your technological needs as it boasts a 12.3-inch touchscreen with smartphone integration, Wi-Fi hotspot connectivity for up to seven devices, and USB charging ports available in every row. With many other features available to go along with a comfortable, luxurious riding experience, it's no wonder Newsweek recently crowned the QX60 as the Best Premium SUV.
QX80
Looking for a family-friendly vehicle you can grow into? The QX80's considerable size provides a compelling option for those who have or plan to have a large family. With it comes all the luxury and comfort you'd expect from INFINITI. Leather seats that are easy to clean with three rows that can comfortably seat up to eight people. Noise-insulating glass for an enjoyable ride experience. Plus, infotainment options include display systems for both front and rear passengers.
Additionally, the QX80 offers plenty in the way of safety and was rated "Great" by JD Power for its reliability. It provides a 360-degree camera system that supplies exceptional viewing of your surroundings in crowded driving spots. Whether your car is full or not, you'll still be able to get a complete view of what's behind you, thanks to an integrated camera display in the rearview mirror. Combine this with predictive collision warning and lane-keeping assistance, and your family can have a genuinely peaceful yet entertaining trip knowing this car was designed to protect you no matter what.
As you can see, INFINITI offers plenty of great options to choose from when looking for a vehicle that your family will love. If you still have questions, please don't hesitate to contact us or stop by our dealership on Mahan Drive here in Tallahassee. Our friendly team of professionals at INFINITI of Tallahassee would be honored to serve you and your family.
2014 INFINITI Q50 on CW-S5 by CONCAVO WHEELS is licensed with CC BY 2.0.